Event Program
Friday 13th April 2018
Registration & Gear Check 
6 – 9pm – Coromandel Homes Office, Port Road Whangamata 
Note: you can also register on Saturday morning if you are not arriving until then. 
Saturday 14th April 2018
– 6:45am: Registration & gear check opens : Beach Road Reserve 
– 8:00am: Race briefing for all competitors : Beach Road Reserve
– 8:30am: Multisport Race Start (SUP paddlers) : Whangamata Harbour
: Paddle Race Start : Whangamata Harbour
– 8:36:30am: Multisport Race Start (Kayakers) : Whangamata Harbour
– 9:15am: Duathlon Race Start : North side Whangamata Harbour
: Run Race Start : North side Whangamata Harbour
– 10:30pm : MTB start : Onemana
– 11:00pm : expected finish first multisport competitor : Beach Road Reserve
– 1:00pm : expected finish for last competitor : Beach Road Reserve
– 2:00pm : Event Prizegiving : location TBC

Note: low tide is 11:40am so beach running conditions will be ideal for the run.
Handicap: SUP paddlers will receive a 6.5min headstart on the paddle. This is to even the playing field and allow SUP athletes to fairly compete for the overall individual and team multisport titles. The 6.5min handicap has been carefully calculated based on previous results and comparing relative speeds of SUP and surf skis.
Gear
Paddle Stage – SUP, kayak or surf ski, paddle, appropriately fitted PFD, leash (for SUPs & skis), airbags (for kayaks). 
Run Stage – clean running shoes (must be cleaned because of Kauri Dieback), recommended to carry a small pack or bumbag with food & water. There is no water along the course and it's a long 9km. 
MTB Stage – mountain bike (recently serviced & in safe working order), helmet, tools, tubes & puncture repair, food & water.   
You may be required to carry a polypro, jacket & beanie on the run & MTB stages depending on the conditions. Come prepared to carry these if necessary. 
Gear Hire – MTBs, kayaks and SUPs are available for hire from Pedal n Paddle Whangamata – 07-865 8096
Course Logistics 
Registration / Start / Finish Area – Beach Road Reserve
Directions – Head north east along Port Road (main street of Whangamata) – Just before the wharf turn left onto Beach road and follow it to reserve on water's edge. Race briefing will take place here and the start line is on the water opposite beach road reserve.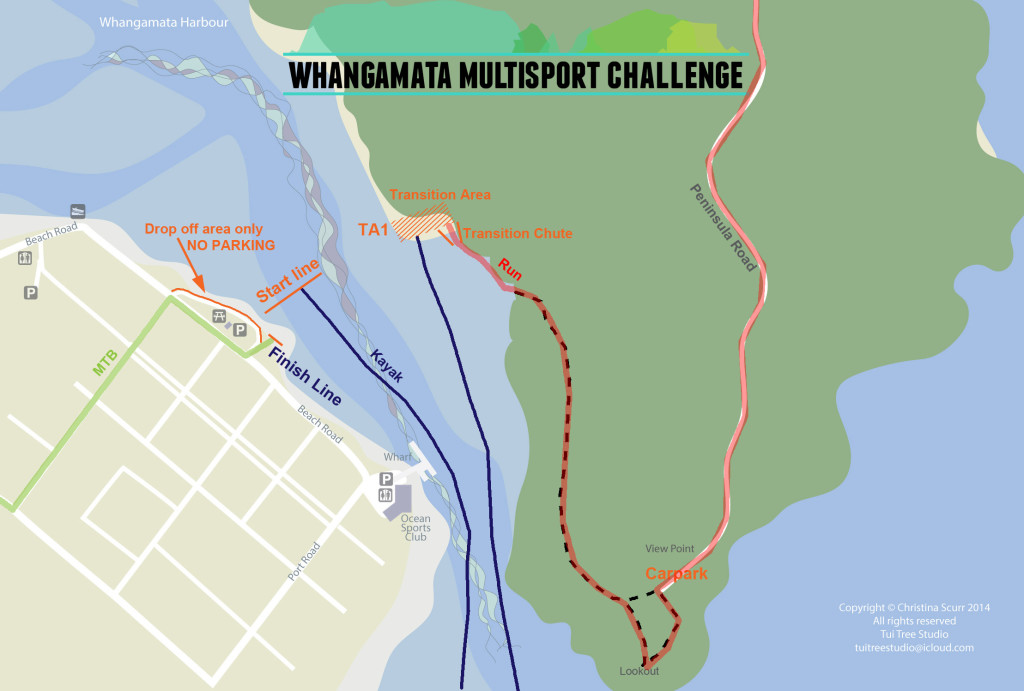 FERRY – all team runners, duathletes and run competitors will be ferried from the start line across to the run start after briefing. This is a short boat ride which is included in your entry fee. Individual multisport competitors can catch the boat across the harbour after the race to collect their kayak / SUP. 
Note: Team runners can drive and run/walk down to the run start if they wish.
SUPPORT CREW – support crew are not required for this race and it is easy to do without one. You can of course have support crew if you wish though. 
If you are racing without a support crew then drop off your MTB at Onemana before you go to register. Then in your pre race warm up paddle your run gear across the harbour to transition. This will take approximately 10mins. 
Run Start / Transition 1 – Paddle-Run – WHANGAMATA HARBOUR
Transition will be on a beach on the far side of the harbour opposite the start line. There will be chute that competitors must run through after transitioning. You may setup your transition on the beach or grass area before the chute. Marshals will be at Transition 1 from 8:00am. Kayaks/SUP must be left at transition until after the race to be paddled back to Beach rd.
Individual competitors without support crew can paddle their transition gear to TA1 before race start. This is MUCH QUICKER than driving and walking down track.
Support Crew Directions – Head north out of Whangamata onto SH25 – After approx 6km turn right onto Whitipirorua Road (way to Onemana) – At the top of the hill (after 1.7km) turn right onto Peninsula Road (gravel road). – Drive to the end of Peninsula Road and park here – Walk down walking track to harbour and transition. It is signposted and will be marked for the race too – Driving time: 20mins Walking time: 10 – 15mins 
You cannot carry kayaks/SUP up the track to Peninsula road. Time will be tight for support crews getting from race start to transition 1. Recommended that you leave before race start. You could get a good view of paddlers exiting harbour from the lookout on the track. Support crews walking back up track after transition must be aware of runners coming behind them and give way. Please show courtesy here.
MTB Start / Transition 2 – Run-MTB – ONEMANA 
Transition will be on the grass area near the surf club. There will be bike racks setup and a chute that competitors must run through after transitioning. You must setup your transition at the bike racks. After transitioning competitors will run their bikes across a foot bridge to the road. You cannot mount your bike until you are at the road. Marshals will be at Transition 2 from 7:30am
Support Crew Directions – Drive back along Peninsula Road – At the end of Peninsula Road turn right onto Whitipirorua Road – Follow Whitipirorua Road onto Onemana Drive – Follow Onemana Drive and then turn left onto Oratia Place, park at the end of Oratia place. – Driving time from Peninsula Carpark : 15mins. From Whangamata : 13mins.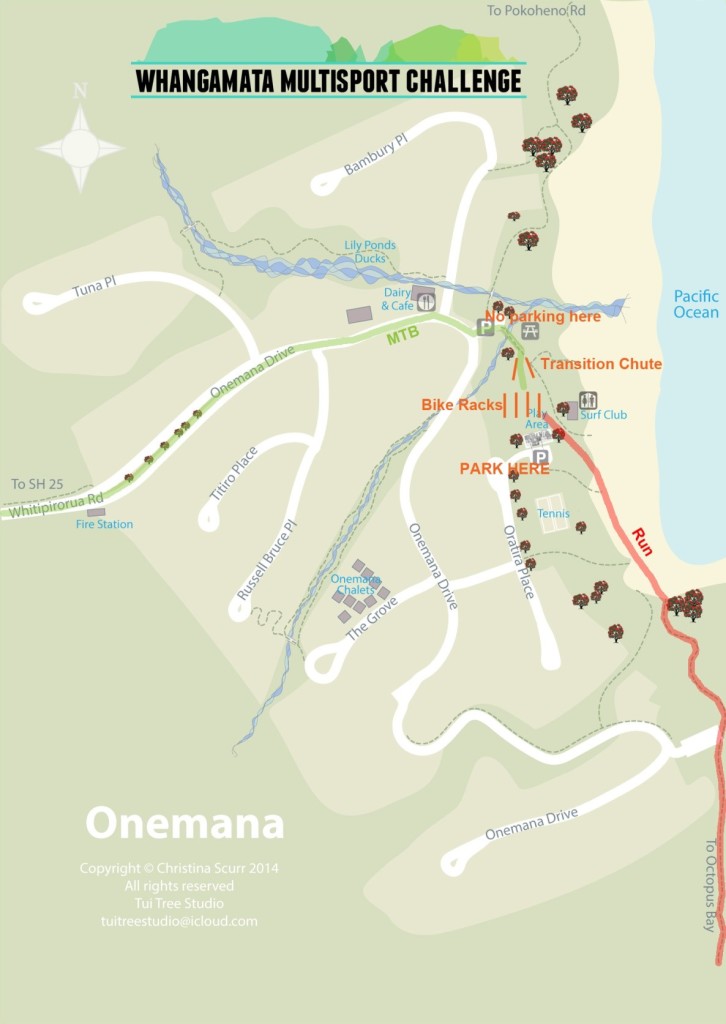 Race Rules
Kauri Dieback
The run course passes through areas where there are young Kauri trees growing. The Whangamata area currently has no Kauri dieback and we want to keep it that way. Before registering you must clean your running shoes so that they are free of any soil. You will not be able to register is your shoes are not clean.
Compulsory gear  
Paddle stage – appropriately fitted PFD, leash (for SUP), sprayskirt (for multisport kayaks & waka), minimum 20l buoyancy (for multisport kayaks).
Gear Checks
The following things will be checked when you register: clean running shoes, MTB helmet, PFD and sprayskirt/leash. 
Personal Responsibility
There is no compulsory gear for the run and mtb stages (except a bike helmet of course). It is your responsibility to carry what you need in terms of clothing, nutrition and repair and ensure you're gear is up to scratch. Then run is relatively slow for 9km because of technical tracks and beach running. Think about carrying water, especially if it is a hot day.
Terms and Conditions of Entry
I agree to enter this event at my own risk. I accept that this event involves risks and will not hold event organisers, officials, sponsors, land owners or any other person involved in the event liable for any loss or injury to equipment or person incurred during the event. I have no physical or medical conditions which may have potential to put ourselves or any other person at risk and we are sufficiently trained for the event. I agree to abide by the organiser's rules and accept any decision or direction given by them. I allow sponsors/organisers to use our name/photo for promotional purposes. I will attend the race briefing and agree to abide by the contents. I agree that we indemnify event organisers, land owners, sponsors and their agents against all claims, damages, losses or expenses which they may incur as the direct or indirect result of any injury, damage to any property, trauma to my friends and family. I acknowledge that the race organiser's decision shall be final.
Competitors under the age of 18 on race day must have the signed consent of their parent or guardian.